Passenger car test-drive program [new]
This program will allow visitors to experience for themselves the latest models including next-generation vehicles (some models will be for test-ride only). The course will run on an approximately 3 km stretch of public roads around the venue. Participation will be on a first-come first-served basis, with test-drive ticket distribution beginning when doors open for the day. Six companies, Toyota, Nissan, Honda, Mazda, Mitsubishi, Subaru are scheduled to participate in this program and will provide 30 vehicles in total. The program will take place on the first 10 days of the show including press days (Wednesday, October 21 to Friday, October 30).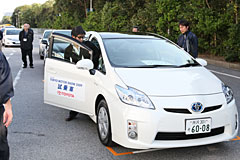 Motorcycle test-ride program [new]
The show will feature a test ride program for the latest motorcycle models. A special outdoor course (circling twice around a 300m course that consists of straight roads and a slalom) will be set up outside the south side of the West Hall (within Makuhari Messe grounds). Participation will be on a first come basis first-served with test ride ticket distributed on the same day. Six companies, Honda, Suzuki, Yamaha, Adiva, Harley-Davidson and Kymco, are scheduled to participate in this program and will provide approximately 25 motorcycles in total. Test rides will be offered on the last five days of the show (Saturday, October 31 to Wednesday, November 4). A total of approximately 1,250 participants is projected. Also, a test ride program for Yamaha electricity-assisted bicycles will be held concurrently in the outside area on the west side of the West Hall adjacent to the motorcycle course. Participants are accepted at the test ride area on the day.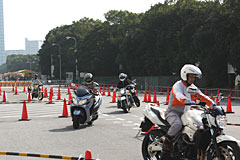 Car of the Year Japan Special Exhibition for 30th Anniversary [new] (Center Hall)
To celebrate its 30th anniversary, the Car of the Year Japan Executive Committee will hold a special exhibit featuring winners for years 1 through 29, as well as the candidate vehicles for this year. The approximately 40 vehicles on display will provide a glimpse into the industry's past and current highlights. The 2009-2010 Car of the Year grand prize will be announced on the first Press Day (October 21) and the award ceremony will take place on the second Press Day (October 22). This is the first exhibition and awards ceremony to be held at the Tokyo Motor Show.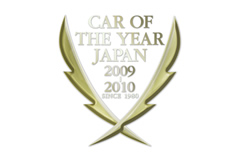 Tour of the Tokyo Motor Show Guided by the Automotive Journalist Association of Japan [new]
Members of the Automobile Journalists Association of Japan (AJAJ) will conduct tours of the motor show for selected participants, providing them with insights on the vehicles and an opportunity to see the show from a journalist's perspective and to talk with guiding journalists. Participants (capacity about 450 peopl) have been chosen by lottery from among those registering on the official website of the Tokyo Motor Show. Applications were accepted from Friday, September 4 through Wednesday, September 30.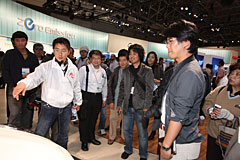 [Journalists slated for the guide tour]
Approximately 20 journalists will participate, including Akiko Marumo, Jun Nishikawa, Kazuo Shimizu, Kei Takeoka, Kiyoshi Komoda, Kumi Sato, Makiteru Ishikawa, Manabu Kawaguchi, Masataka Matsutoya, Yasuhisa Shimashita, Yasuo Kusakabe, Yuko Iida and Yumi Yoshida.
TOKYO FM Satellite Studio [new] (East Hall)
TOKYO FM will be setting up a satellite studio in the East Hall. In addition to live broadcasts from the venue, there will be a special stage for artist performances and other entertainment events.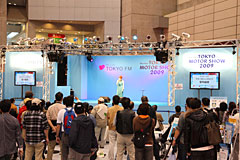 "My Memorable Vehicle" Photo Exhibit [new]
Car and motorcycle fans around the country have been invited to submit photographs of their most "memorable vehicles" together with a comment about the memories associated with the vehicle for display at the show. This exhibit will communicate the dreams, fun and splendor of cars and motorcycles. The announcement is now on the official website of the Tokyo Motor Show for how to apply. Submissions are being accepted from Monday, August 10 through Friday, October 9, until 300 photos are received.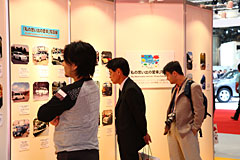 Tokyo Motor Show Symposium 2009 (International Conference Hall)
A Symposium, designed to be open to general visitors, will be held on a number of themes pertaining to automobiles. Six themes are scheduled for this year's symposium.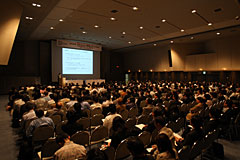 PlayStation /Gran Turismo Booth (East Hall)
Sony Computer Entertainment Inc. will be sponsoring a test drive corner featuring the latest version of racing game "Gran Turismo" for Playstation.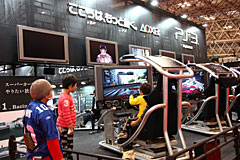 Tomica Choro-Q Corner (East Hall)
Tomy Co., Ltd. has sponsored miniature car exhibits since the 35th show in 2001. For the customary Tokyo Motor Show Commemorative Models, along with the Tomica line of toys, this year's exhibit will also feature the Choro-Q line, now in its 30th year of production.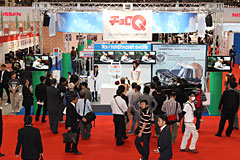 Children's Art Exhibit (East Hall)
The 11th Children's Art Exhibit will be on the theme of "Dream Cars: Our Futures," and will show approximately 3,600 works of art from kindergarten children living in Chiba City.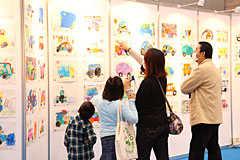 Crafting Experience for Parents and Children [new] (East Hall)
The Confederation of Japan Automobile Workers' Unions (JAW) will provide a hands-on corner to have children, who are our next generation, experience the dreams, fun and splendor of the automobile through activities such as paper craft car making, motor-powered car modeling and car painting. There will also be an exhibit of paintings on the theme of cars of the future.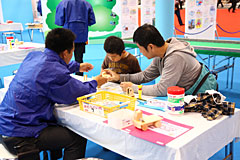 Motor Lounge[new] (Center Hall)
A space of approximately 600 m2 along the Central Passageway on the east side of the Center Hall will be set up as the "Motor Lounge." A rest area with benches, sofas, and plants will be placed amidst a total of 11 vehicles being displayed by domestic passenger car and motorcycle exhibitors to create a space of relaxation.
Passenger Cars
Suzuki

PALETTE SW

Daihatsu

TANTO X Limited Special

Toyota

Toyota Sports 800 (Gas - turbine hybrid model)

Nissan

NISSAN GT-R SUPER GT 08 GT-R

Subaru

SUBARU IMPREZA STI (Nurburgring 24-hour race)

Honda

HONDA ACCORD CVCC

Mazda

Mazda RX-500

Mitsubishi

MITSUBISHI A
Motorcyles
Suzuki

GSX-R1000 "YOSHIMURA SUZUKI with JOMO #12"

Honda

Honda RC160

Yamaha

YAMAHA YZR-M1