This program will allow visitors themselves to drive the latest models including next generation vehicles (some models will be for test-ride only). By introducing visitors to the fun of driving, the program seeks to create as many new auto enthusiasts as possible. Staff from participating companies will also accompany drivers during the tests, during which they will explain the car's controls and features.
The course will run on an approximately 3 km stretch of public roads around the venue. Participation will be on a first-come first-served basis, with ticket distribution beginning when doors open for the day. 30 vehicles in total from 6 companies will be provided.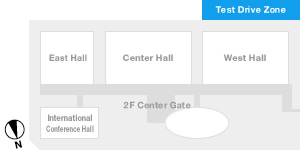 Outline of program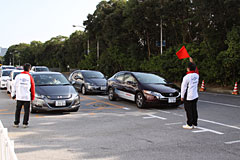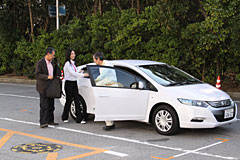 Dates:

Wednesday, October 21 through Friday, October 30 (10 days)

Times:

11:00-16:45

Venue:

Outside south side of West Hall

Course:

Approx. 3km of public roads around Makuhari Messe

Test Ride Tickets:

Distributed the same day on a first come basis starting at 10 am

Participating automakers:

6 companies
Toyota, Nissan, Subaru, Honda, Mazda and Mitsubishi *See attachment for list of available vehicles

Eligibility:

Must bring valid driver's license to be eligible

Remarks:

Children under the age of 6 and smaller than 4.6 feet or 140 cm in height, and those who are pregnant or are having sickness are not allowed to join this program.
Outline of program (As of October 24)
* Please be noted that test-drive vehicles may be changed without prior notice.
Manufacturer
# of
vehicles
1
2
3
4
5
6
Note
Toyota
6
Prius
MARKX
MARKX
RX450h
HS250h
FCHV-adv*
Test ride only for FCHV-adv
Nissan
4
X-TRAIL*
(Clean Diesel)
X-TRAIL
(FCV)
NISSAN GT-R
Fairlady Z
Roadstar
-
-


Subaru
6
LEGACY
Touring Wagon
LEGACY B4

LEGACY
Outback
EXIGA

IMPREZA WRX
STI A-Line




Honda
5
INSIGHT
INSIGHT
INSIGHT
INSIGHT
FCX CLARITY*
-
Test ride only for FCX Clarity
Mazda
4
AXELA
AXELA
BIANTE
BIANTE
-
-
With Mazda's unique idling stop technology
Mitsubishi
5
i-MiEV
(electric vehicle)
i-MiEV
(electric vehicle)
DELICA D:5
OUTLANDER
LANCER FORTIS
SPORTBACK
-


Total
30