Official 41st Tokyo Motor Show 2009 merchandise will be on sale at 3 official merchandise shops located around the venue (center and west side of 2nd floor Central Mall and Yasuragi Mall area).

Along with commemorative products featuring the Show's logo such as keychains, mugs, t-shirts, and hand towels, in the spirit of this year's theme, "Fun Driving for Us, Eco Driving for Earth", which calls for a balance between enjoyment and environmental concerns, environmentally-friendly products such as stainless steel reusable portable chopsticks and real leather key case (recycled leather) will also be featured.

Also, starting with this year's show, a selection of Tokyo Motor Show merchandise will be available for purchase through the Tokyo Motor Show official website after the conclusion of the show through the end of the year for individuals who were not able to purchase merchandise during the show.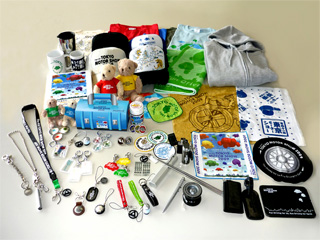 Official merchandise for the Tokyo Motor Show (tentative)
(Designs and items may differ from the picture shown above.)
| Product name (tentative) | Scheduled price (tax included) | Product name (tentative) | Scheduled price (tax included) |
| --- | --- | --- | --- |
| Printed cookies | ¥850 | Mini towel set | ¥1,000 |
| Chocolate ball/w toolbox shaped box | ¥850 | Portable stainless steel chopstick | ¥1,800 |
| Fresh mint tablet | ¥800 | Hand towel/tire | ¥700 |
| Pin badge | ¥500 | Luggage tag | ¥1,250 |
| Pin badge (4/2 wheel) | ¥700 | Real leather key case | ¥2,000 |
| Number plate strap | ¥900 | Plastic dome shaped strap | ¥700 |
| Imitation leather strap | ¥900 | Acrylic keychain | ¥550 |
| Car parts strap | ¥800 | Pin badge | ¥350 |
| Lanyard keychain | ¥900 | Micro cross | ¥700 |
| Wired keychain | ¥900 | Metal keychain | ¥800 |
| Portable ashtray keychain | ¥1,200 | Logo T-shirt | ¥2,000 |
| Wallet chain | ¥1,200 | Logo T-shirt /earth | ¥2,500 |
| Lighting ball pointed pen | ¥800 | Logo T-shirt /monotone | ¥2,500 |
| Mug cup | ¥1,000 | Logo T-shirt /Japan | ¥2,800 |
| Hand towel | ¥600 | Logo sweatjacket/ECO | ¥7,000 |
| Face towel | ¥1,000 | Logo sweatjacket/Japan | ¥7,000 |
| Non slip mat | ¥1,000 | 3D Logo cap | ¥2,500 |
| Teddy bear doll keychain | ¥800 | Logo cap | ¥2,500 |
| Teddy bear doll | ¥1,500 | Mesh cap(Japan) | ¥2,500 |
| Real chain keychain | ¥1,400 | Kids cap | ¥1,800 |
| Carbon parts strap | ¥1,800 | Patch/ECO logo | ¥1,000 |
| Real leather keychain | ¥1,300 | Patch/TMS logo | ¥1,000 |
| ZIPPO lighter/w leather case | ¥12,000 | Patch/41st logo | ¥1,000 |
| Tenugui:Japanese traditional style towel | ¥600 | Yo-yo | ¥800 |
| Yunomi:Japanese traditional style tea cup | ¥1,000 | Logo sticker set | ¥500 |
| Reflective pad keychain | ¥500 | | |
(Product names and prices subject to change)